Residential Concrete Contractor in Louisville, KY
Artisan Construction is a concrete and construction company. Our goal is to provide quality workmanship and reliability to our customers in the Kentuckiana area.
Our team are experts at demolishing, installing, and repairing concrete. We perform concrete jobs both large and small for residential customers in the Kentuckiana area.
If you need an experienced construction company to take care of any residential construction or repair needs, Artisan Construction is here for you.
We are a full-service company that offers our clients a wide range of services so they don't have to go anywhere else to get what they need for their homes. The services we offer include new construction projects, remodeling, renovations, custom work, additions, repairs, and maintenance. Home improvement can be overwhelming, but it doesn't have to be when you choose us as your contractors. We will work with you every step of the way to make sure you are pleased with the results.
At Artisan Construction we offer free estimates for virtually any project, no matter how small. Whether you need concrete repairs, new concrete installation, concrete polishing, or new driveways installed, our Louisville contractors are ready to get started.
Why Work With Artisan Construction
Facing a remodeling project or general repairs? You need reliable, honest contractors who will listen to you and give you the most accurate quotes possible.
Working with experienced concrete professionals from Artisan Construction will give your home everything you desire and more. We pride ourselves on delivering quality craftsmanship and service at an affordable price. We promise timely arrival, full transparency during the process, excellent craftsmanship, and professional installation and repair services sure to bring your structure many years of strength and durability.
Our team is well-equipped to handle even the most complex of jobs. The way we approach our work is simple: we take pride in providing exceptional work, exceptional value, and excellent customer service, all while maintaining a sense of fun in our day-to-day operations.
Why We Are Louisville's Number One Construction Service Provider
Structural integrity is the most critical factor in crafting a quality home. However, it can be hard to find an honest, knowledgeable general contractor in your area. This is why once residents of Louisville, KY start a project with Artisan Construction, they keep coming back.
Here are some benefits of working with Artisan Construction in Louisville, KY:
Quality and Affordable services– we offer unbeatable services for a good price that will fit within your limited budget.
Experienced professionals– our team is highly experienced in the construction industry. We employ highly skilled workers to handle all your projects.
On-time delivery– you will get to enjoy your project as and when you need to because we always complete our work on time.
Great customer service– we make sure our customers are satisfied by providing them with a friendly and professional team of experts.
We are licensed and insured– we are fully licensed and insured, so you know that you are getting services from a reputable company.
Nothing beats the feeling of knowing you can trust a contractor with your construction and repair needs. When it comes down to price, customer service, and quality of work, you can never go wrong with Artisan Construction. Contact us today!
Concrete Driveway Installation & Repair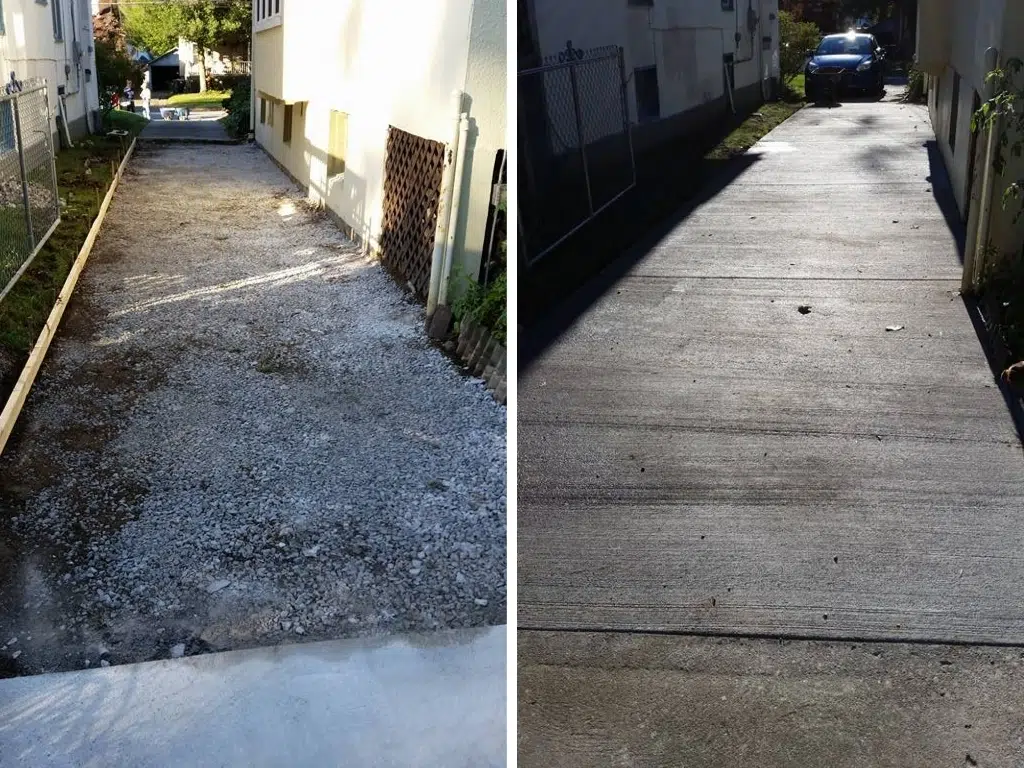 In terms of durability, longevity, and curb appeal, few things compare to a beautiful new driveway.
Your driveway can be just as important to your property as the house itself. This is often where you get out of your vehicle and start your day. This is why we see offering concrete driveway installation and repair in Louisville, KY, as a great way to be part of the community and take care of our clients.
Installing a concrete driveway is an investment that needs to be handled by a company that understands the needs and requirements of its customers. That's where we, Artisan Construction, come in. Our team can take any concrete driveway project, from small to large, and create a custom solution that complements your property. We use only the best quality materials to install a quality driveway at an affordable price.
Sidewalk And/or Walkway Installation and Repair
The durability, strength, and longevity of concrete sidewalk installation are in direct proportion to the quality of the concrete. Many factors combine to determine the final characteristics of concrete, including particle size distribution, moisture content, compressive strength at 28 days, steel rebar requirements, and the number of days to cure. These are things that our professionals know will give you exactly what you desire in your sidewalk project.
It is imperative to ensure that the sidewalks and walkways around your Louisville, KY property are in excellent condition. This contributes to safety measures for your home. We are highly experienced when it comes to sidewalk and/or walkway installation and repair in Louisville, KY. No other company offers you better rates on the same service.
Have your sidewalk or walkway installed or repaired professionally by our company, and know that it will be done right the first time.
Pool Deck Installation and Repair
Pool decks are the best way to extend the enjoyment of your backyard, but they are also extremely demanding when it comes to maintenance.
Are you concerned that your pool deck is outdated or requires repairs? You can trust Artisan Construction to take care of any concrete pool deck installation and repair work you need. With years of experience, we provide quality service for pool decks in Louisville, KY.
We can make any concrete pool deck construction project a reality with our exceptional services. Our pool decks offer several benefits including better safety, enhanced value, and a longer life for your pool. Our team of professionals can create simple or elaborate designs depending on your preferences. We also offer the best quality pool deck materials and we install and maintain pool decks using state-of-the-art equipment.
Concrete Garage Floors and Garage Construction
The garage is one of the most used structures in a home, and for this reason, it should be built to withstand the wear and tear you intend to apply. This is what makes concrete material ideal.
Concrete construction is the most economical and sturdy choice for your garage floor. Unlike other building materials such as wood, concrete does not need to be as thick to withstand as much weight as it can.
Offering concrete garage floors and construction in Louisville, KY, would be impossible without having access to state-of-the-art tools and technologies. Our professional contractors use the best products to create the strongest, sturdiest concrete floors. We provide our clients with top-of-the-line garages that are both beautiful and functional and built to the desired design.
Decorative Concrete
Decorative concrete coatings and finishes are the latest trends in flooring. Providing a welcomed departure from ordinary driveways and patios, decorative concrete can bring life to dull surfaces.
The reflective, glossy finish is scratch-resistant and adds character to any space. It can be applied to just about any surface including driveways, patios, basements, slabs, garage floors, workshops, warehouses, interiors & exteriors. This process is also cost-efficient, as decorative concrete coatings provide wear resistance, durability, and easy maintenance – all of which save you money.
Whether you are remodeling your home or building a new property, decorative concrete can create sleek, elegant flooring that is both functional and creatively artistic. Our team of expert technicians has years of experience in this field and is committed to living up to our reputation for quality workmanship at competitive prices.
Stamped Concrete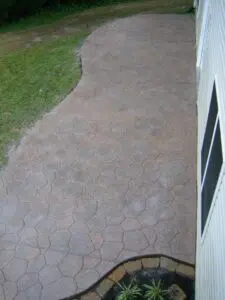 Stamped concrete is a cost-effective, modern way to enhance the look of your home. A stamped concrete patio, pathway, or driveway gives you the feeling of real stone or brick for a fraction of the cost. And when it comes to design, there are no rules. With stamp patterns ranging from subtle to bold, the possibilities are endless.
The beauty of stamped concrete, also known as textured concrete, is that it can replicate any look or texture you desire. Your patio or driveway can mimic brick, slate, cobblestone, wood grain and so much more. With many stamped concrete designs to choose from, adding this attractive surface offers several benefits, including curb appeal and aesthetic value.
At Artisan Construction, we provide homeowners with high-quality details regarding stamped concrete patios and driveways, which include a wide range of creative patterns, innovative colors, and elegant designs.
Concrete Restoration
Although concrete can stand up to a lot of abuse, it is not invincible. Unfortunately, the damage is inevitable when exposed to the elements over time. Underground water from flooding or improperly drained areas, as well as extreme temperature changes, can leave a surface with cracks and fissures that weaken its overall structural integrity. That is why it is vital to get professional concrete restoration services.
The appearance of your concrete can increase the value of your property and its curb appeal. Our experts can restore weathered and cracked concrete through our concrete restoration process. We offer a range of services from concrete sealers to concrete removal and from concrete grinding to concrete overlays. Using the very best products and methods, you will experience a smooth, finished surface that looks just like new.
Concrete restoration can help to restore the beauty of any concrete surface. Whether you want to protect the integrity of your sidewalk, driveway, or patio, our technicians are ready to assist you with your concrete restoration needs in Louisville, KY. Our specialists will evaluate your slab and give you the most comprehensive plan to restore your concrete.
Concrete Foundations
A concrete foundation provides the most stable base for your home. It is one of the strongest building materials available, with outstanding compressive strength, and can withstand the erosion caused by foundation drainage systems.
Our concrete foundations are the most economical, durable, and versatile base for residential construction. They also withstand the toughest weather—from the arctic chill of winter to the searing heat of summer's dog days. By making sure your foundations remain strong and stable, we help keep structural damage far away, especially if it involves concrete cracks.
When it comes to concrete foundations, we don't just handle the installation and repairs—we also take care of the planning and materials required to get them right. Our experienced concrete contractors will work with you to determine the best foundation type for your needs, provide sound advice on the details involved, and make sure your structure is built or repaired with professional-grade materials.
Concrete Patios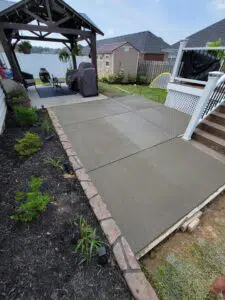 The right patio is the foundation of a great outdoor space, and why not make it a custom product?
At Artisan Construction, we understand that your properties are unique, and we find ways to make each project more than just another concrete patio. We will take a look at your property and give you a design that matches the overall feel of the space. We can take the same concrete patio and create a one-of-a-kind, custom solution that will be appreciated for years to come.
The quality of a concrete patio is reflected in its appearance, but it is also important that the patio withstand every kind of weather over a long period. We have concrete patios that have been used for decades with no problems whatsoever, proving the durability of our products.
Let us help you design something that will last, look great, and feel right at home.
When Quality Counts, Artisan Construction is the Right Choice
Choosing a professional for your construction project can be a difficult task. In the past, you may have been disappointed with slow or incomplete service after payment has been made. You don't want to find yourself in that situation again.
It's the details that set the good contractors apart from the great ones. If your home's concrete is cracked, crumbling, or damaged, you can't afford to pick just any concrete repair company. The last thing you need is another poorly done project in your life.
Artisan Construction offers all of the benefits of working with an established company with none of the drawbacks. We provide professional services to ensure that our clients' unique needs are met. Our team of experts has decades of experience in working with thousands of customers. This experience is invaluable in providing quality craftsmanship, desired timelines, and competitive pricing. Call today to schedule a free consultation about your project.